Multidimensional Poverty
Measurement & Analysis
A book from the Oxford Poverty & Human Development Initiative (OPHI)

What is multidimensional poverty?
Many countries define poverty as a lack of income. However, this alone doesn't reveal the broader picture of what life is really like for the poor. Multidimensional poverty encompasses the many deprivations that people can experience across different areas of their lives. This could include a lack of education or employment, inadequate housing, poor health and nutrition, low personal security, or social isolation.
By presenting a vivid picture of how and where people are poor, within and across countries and regions, multidimensional poverty measures can help policymakers target resources at those most in need.

OPHI Director Sabina Alkire and President of Ecuador Rafael Correa discussing the book at the launch of the national MPI for Ecuador in Quito, 5 February 2016
Why this book?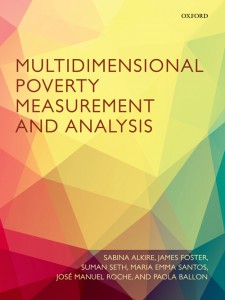 'Multidimensional Poverty Measurement & Analysis' provides an in-depth account of multidimensional poverty comparison methodologies, with a particular focus on the Alkire-Foster Method. Read more about the book.
Check this website regularly for electronic versions of chapters, and new study and teaching resources.
About OPHI
OPHI is an economic research centre, based in the Department of International Development at the University of Oxford. OPHI aims to build and advance a more systematic methodological and economic framework for reducing multidimensional poverty, grounded in people's experiences and values. Find out more about OPHI's work.